Zentangle® is an easy-to-learn method of creating beautiful images from repetitive patterns.
* It is a fascinating new art form that is fun and relaxing.
* It increases focus and creativity.
* Anyone can create Zentangled art.
* There are no mistakes in Zentangle!
Order a complete Zentangle Kit for $49 plus $6 shipping (U.S.).
The Kit includes everything you need to get started -- 34 tiles die-cut from 100% cotton fine art paper, 2 Sakura Pigma 01 Micron pens, 2 pencils, pencil sharpener, tortillion, book with designs, DVD, and Legend with icosahedron. It all comes in this beautiful box where you can store your supplies and easily take them with you. After you watch the DVD and review the book, you are ready to start making your own beautiful Zentangle designs.
To order, email Bonnie: bbquilter@gmail.com.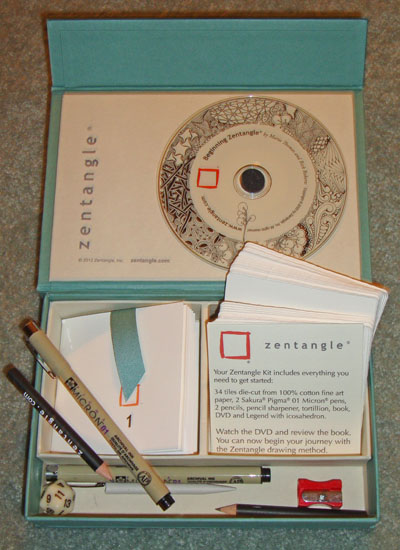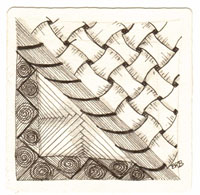 Following the simple steps for drawing tangles, your own art piece will come alive as you use deliberate strokes to create patterns on your own Zentangle tile. Take a workshop and learn what you can do with just a pencil, a pen, and a Zentangle tile.
*Fees listed are per person, ask about a group fee for 10 or more - civic groups, clubs, guilds, schools, medical groups. Transportation, meals, and lodging (when needed) are provided by host group if more than than two hours from Paducah, Kentucky.
For fees and booking classes, please contact Bonnie via e-mail:
bbquilter@gmail.com or call 270-898-4065.
Zentangle 1 - Getting Started
Come and discover the new and creative art of drawing called Zentangle. In this introductory class you will experience the satisfaction of completing your own unique, finished piece of art and enjoy the meditative quality this wonderful art form has to offer. No previous art training or drawing experience is needed to learn this technique. 2.5 hours - $35 fee*, includes a starter kit.
Zentangle 2 - More Patterns
This class is an intermediate class for those who have completed "Getting Started". You will learn more patterns and how to use embellishment and shading techniques in your tangles. 2.5 hours - $35 fee*, includes some Zentangle tiles. Bring your starter kit from previous class.
Zentangle 3 - Advanced
Building on techniques already learned in the previous two classes, learn how to apply greater depth and detail to your work through the use of shading, highlights, variations to existing patterns as well as learning some more complicated Zentangle patterns. Previous Zentangle instruction is required. 3 hours – $40 fee* (bring your mini kit)
Zentangle - Cards & More Fun Things
You can use Zentangle to make your own cards, artist trading cards, gift tags, bookmarks, and more. What a fun way to give from the heart. This class is great for groups wanting a special program during the holidays. Learn to create your own art, one stroke at a time. No drawing experience required. Come have fun and relax!
2.5 hours - $35 fee*, includes kit.
Zentangle One and Two Day Workshops
These workshops will take you from Beginner to confident Intermediate. These workshops are customized for your group - team building, clubs, retreats. Further information available on request.
Zentangle for Quilters
Explore ways you can expand your free-motion quilting designs. Learn some Zentangle patterns that are simple to convert to continuous line patterns. Give your quilting the WOW factor by using your own unique background fillers and border patterns. We will begin by drawing the Zentangle designs and then move to the sewing machine to stitch them out. All drawing classes are excellent preparation for practicing free-motion quilting skills as drawing patterns enables the brain to remember where to go when you are stitching out patterns. Each workshop includes a Starter Kit.
3 hrs. $40. No drawing experience required, however you will need to be confident in using your sewing machine.