Bonnie is the author of eleven books on quiltmaking. She teaches workshops that will help you make quilts that will last a lifetime, using today's materials and innovative techniques. There are many ways to make quilts - you just need to find the techniques that you are comfortable using, and that will give you a finished quilt that you are proud to say, "I made it myself."

Here is the list of the books Bonnie has authored:
E-mail: bbquilter@gmail.com with any questions about ordering.
NEW BOOK - February 2013
.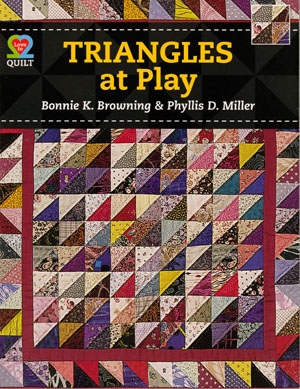 .
An updated version of Playing with Triangles that Phyllis Miller and I wrote several years ago, Triangles at Play has seven patchwork projects using triangles for traditional or modern quilts. We share several ways to stitch triangles - individual triangles, half-square method, grid method, bias strip method, and the corner-square technique. Take your pick and use the one that works best for you.
.
You'll find Bonnie's Xquisite Scrap Quilt in this book - always popular in her classes. If you want a simple quilt to teach children or others, try the Star in a Star quilt. There's even a sheet of graph paper so you can design your own quilt using triangles.
.
CLICK HERE to order your copy today. $12.95, $10.36 with the AQS-member discount.
NEW BOOK - February 2013
.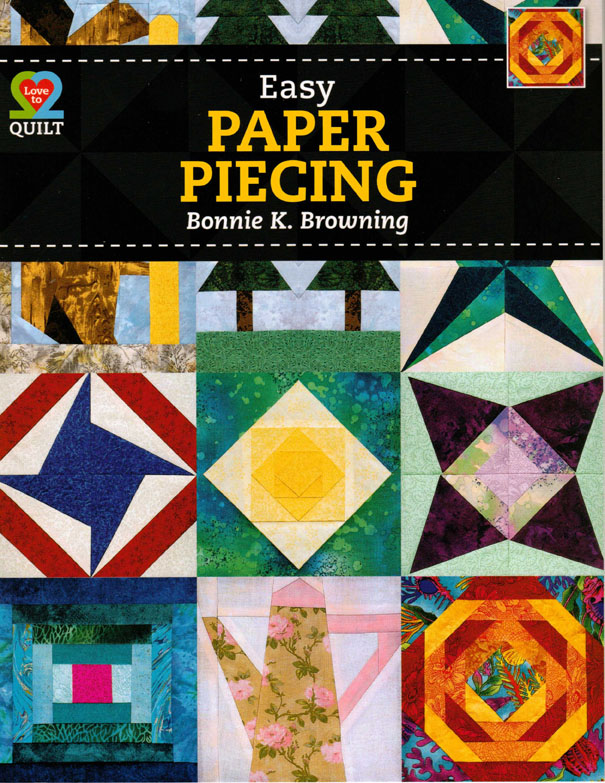 Love to Quilt: Easy Paper Piecing
A brand new version of my Easy Paper Piecing book was just released. All of the designs on the cover, plus a lot more on the inside, are all stitched using my paper piecing method with vellum foundations. You can print the designs out on your home computer and stitch away. Perfect way to learn to paper piece.
Paper foundations + bits of fabric + straight stitching = accurate blocks.
Color photographs and full-size patterns are provided for 20 blocks!
CLICK HERE to order your copy today! $12.95/$10.36 with AQS-member discount.
.
Borders & Finishing Touches 2
112 pages with 180 photographs.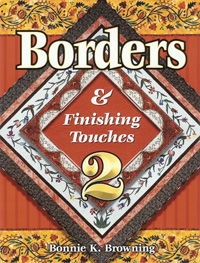 Originally $22.95/now reduced to $15 plus shipping. Contact Bonnie for a signed copy - not many left. This book includes the complete pattern for making the Twisted Windmill Log Cabin Quilt that Bonnie showed on Simply Quilts.
The how-to section is all shown in photos as well as words. Learn how to make your borders fit with Bonnie's no-math, paper-folding technique that works on any size quilt. Look at a variety of border designs and corner treatments.
In the Finishing Touches section, you learn to add piping, prairie points (even piped ones), scalloped edges, dogtooth edges, and shark's teeth. There are a variety of binding techniques and some fun novelty edge treatments -- try the heavy metal one. In the Pattern section, you'll find 18 border patterns, ranging from simple pieced ones to some very beautiful appliqued designs. And, see how Bonnie has added borders to linens too
You can now order pre-printed vellum foundations for the Windmill Twisted Log Cabin pattern that is in Borders & Finishing Touches 2.
32 patterns are $14 (includes shipping in U.S.)
Send your name, address, and check for quantity wanted to:
Bonnie Browning
5815 Finley Ct
Paducah KY 42003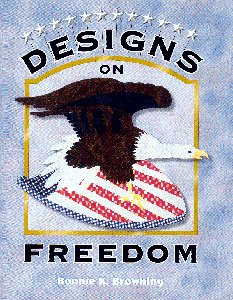 Designs on Freedom
If you need patterns for a patriotic quilt, this book has 50 patterns ranging from flags, eagles, Statute of Liberty, and U.S. Capitol Building, to military planes and vehicles. You can use the designs for any kind of needlework - applique, embroidery, or quilting, for painting or woodworking. Children will have fun coloring these designs. A special bonus is the directions for making the five-pointed star used on the U.S. flag.
Special $10.00 (regularly $14.95), plus shipping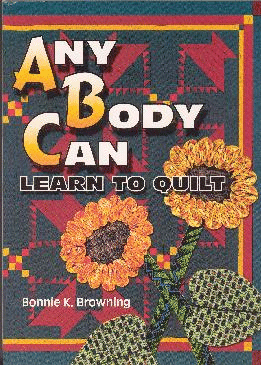 Any Body Can Learn to Quilt:
Designed for beginning and intermediate quilters, this book has projects that start with squares, rectangles, and triangles, and includes hand and machine applique, and even a chapter on sewing with children. 128 pages. Simply Quilts program.
Special: $15.00 (regularly $22.95), plus shipping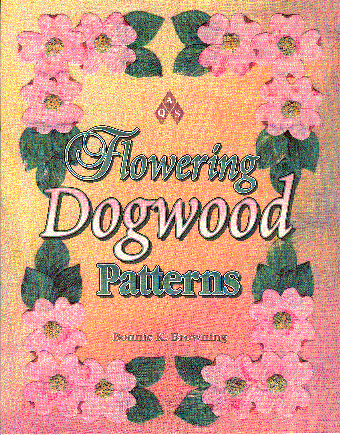 Flowering Dogwood Patterns: Out of Print
Eleven pieced and appliqued dogwood patterns, including the new Paducah Dogwood pattern designed by Bonnie and used on the banners and signs during the Paducah Dogwood Festival (held mid-April). 32 pages.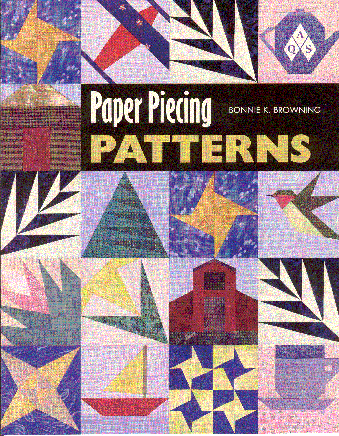 Paper Pieced Patterns: Out of Print
A variety of designs that can be paper pieced; here are a few of the patterns: Airplane, Barn, Chocolate Cake, Crossed Canoes, Daffodil, Hummingbird, Palm Leaf, Sailboat, Squirrel Eating Corn, and Trees. 32 pages. Book is out of print; now available as an eBook at www.AmericanQuilter.com . With the eBook, you can print the patterns to the size you need - saves you time.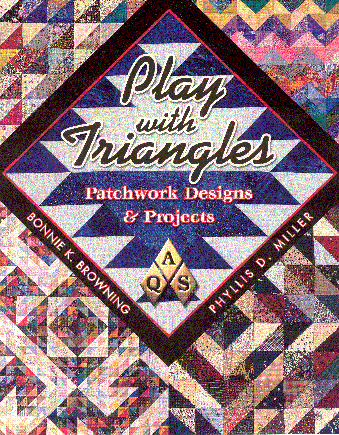 Play with Triangles : Patchwork Designs & Projects - Revision coming soon....
(co-author w/ Phyllis D. Miller):
Out of Print - Revised Version Coming Soon
The bias line created by dividing squares into triangles adds motion and many design possibilities. Bonnie and Phyllis introduce you to fast, easy methods for making triangles. Features 32 traditional designs. 32 pages.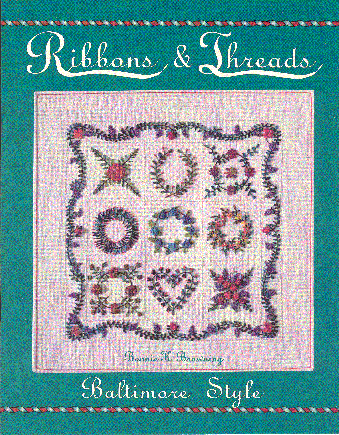 Ribbon & Thread: Baltimore Style: Out of Print
Learn ten stitches, five flowers, and two knots to make a miniature Baltimore-style quilt in silk ribbon and threads. If , like Bonnie, you don't have time to make a large Baltimore quilt, you can make your own miniature version following Bonnie's easy-to-follow instructions. 32 pages.
.
Vintage Quilt Blocks: State by State
Want to make a quilt for your home state or a family remembrance of a special trip? Bonnie's new book contains one block for each of the 50 states, plus a few extra blocks like My Country and National Star.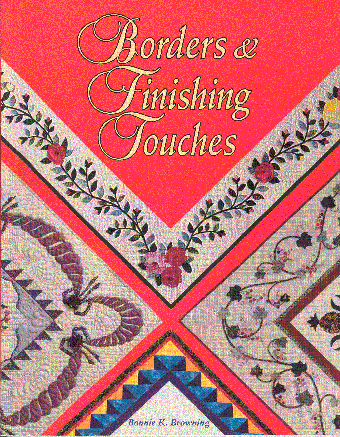 Borders & Finishing Touches: This best-selling book is out of print.
This is the first book by Bonnie on Borders and Finishing Touches, including border patterns for both pieced and appliqued, and mixed techniques.
Look for a used copy online.