This is a listing of television programs that I have appeared on... and this doesn't include any of the PR programs that I do for each show for AQS.

Watch AQS QuiltChat each Wednesday at 11:00 a.m. (Central Time) on Facebook/American Quilter's Society. We will be live from the AQS Studio in Paducah.
TheQuiltShow.com with Alex Anderson and Ricky Tims
Series Twelve, #1207, 2013
Hollis Chatelain and Bonnie Browning. Bonnie dropped by Caryl Fallert's studio and showed Alex, Ricky, Caryl, Hollis, and Justin how Zentangle can be combined with quilting.
Episode 609 – Freeform feathers & Happy endings (Bonnie Browning / Judy Woodworth)
Posts on April 26, 2010
This super show brings you two outstanding teachers for "the price of one!" First, professional machine- and award-winning quilter Judy Woodworth uses a Gammill Longarm Quilting Machine to create freeform, out-of-the-box feathers, and encourages Alex to try her hand as well. Then: Who doesn't love a happy ending? Bonnie Browning, author of nine books, including Borders & Finishing Touches 2, involves our enthusiastic studio audience as she demonstrates a variety of innovative techniques, tips, and notions for giving our quilts the best endings ever! You'll be learning something every moment of this jam-packed episode.
HGTV Special Presentation - Quilts, Secrets Hidden in Fabric:
This program features quilt blocks from WW II that were given to Bonnie. She researched the designer of the blocks and continues to locate the women whose names are embroidered on some of the blocks. There are still many unanswered questions about these blocks.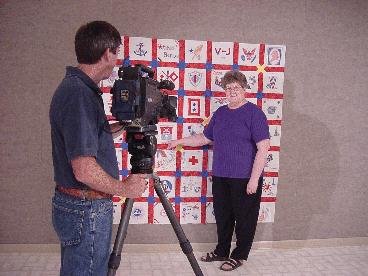 I hope you all enjoyed the entire program as much as I did. What fun to explore the unanswered questions in quilts. I know my "moldy oldy" friends are going to give me a hard time because I always tease them about studying those old quilts, and here I am doing the same thing. It was a special treat to meet my new cyber friend, Frances Bergling, whose name appeared on one of the quilt blocks. We have been searching and researching these blocks for nearly two years. I was pleased that High Noon Productions was able to tape a portion of the show with her. Didn't they do a great job of incorporating the local history into each of the different stories included in the program? Great job, High Noon Productions, Denver, CO. A special thanks to Chris Wheeler, who taped my segment, and Holly Johnson, who helped set up this segment. I'll post the information here if I learn of another scheduled showing of this special presentation on HGTV.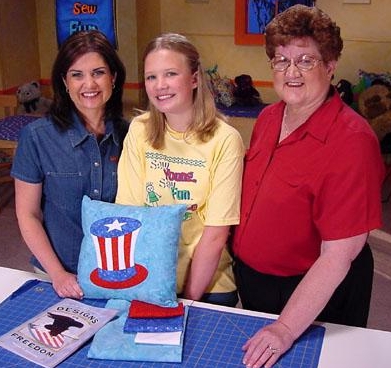 Sew Young, Sew Fun on PBS
Series 500: Bonnie taped a program on sewing with children as part of the 5th season of Sew Young, Sew Fun on PBS. Clare Conway worked with Bonnie to sew the Patriotic Pillow featuring Uncle Sam's hat.
Check back here for the air date of this program.
Series 409: Get-Cozy Quilts featuring a foundation pieced sailboat quilt. A great project for kids. Shayla Brown stitched with Bonnie to make her own sailboat quilt.
Look for Bonnie on these quilting television shows.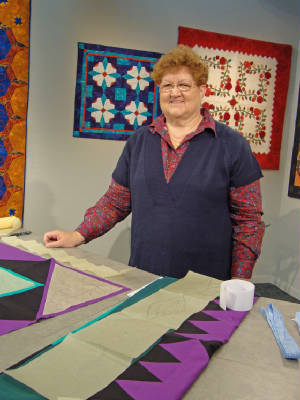 In September 2009, Bonnie flew to Boulder, Colorado to tape a program with Alex Anderson and Ricky Tims for their online show, The Quilt Show.com.
American Quilter, TV show produced by the American Quilter's Society
Program: A Day with AQS Show Director Bonnie Browning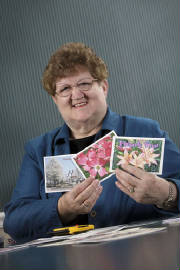 Bonnie was featured in the December 2009 issue of Kentucky Living magazine in an article on The Lost Art of Writing Thank You Notes. Bonnie shared making photo fabric postcards as thank you notes. This is one of the photos they chose for the article. Several individual fabric postcards are included in the article too.
Simply Quilts on HGTV
#802 Windmill Log Cabin quilt; from Log Cabin With A Twist by Barbara Kaempfer, Bonnie demonstrates how to make the Windmill Quilt used in the opening of the Simply Quilts program.
#661 Presidential Redwork by Michael G. Buckingham; Bonnie assisted Michael by demonstrating using redwork on his designs
#641 Startdust Quilt, a quilt designed by Bonnie for the AQS program, Teach America 2 Quilt...Again!
#526 Warm Hug rice bag, Jewelry pincushion, and Album cover, from Bonnie's book, Any Body Can Learn to Quilt
#418 Finishing Touches, border and edge treatments from Bonnie's book, Borders & Finishing Touches
#124 Quilting Bees Then & Now, visit the NQA quilt show in Riverside, California, with competition judge, Bonnie Browning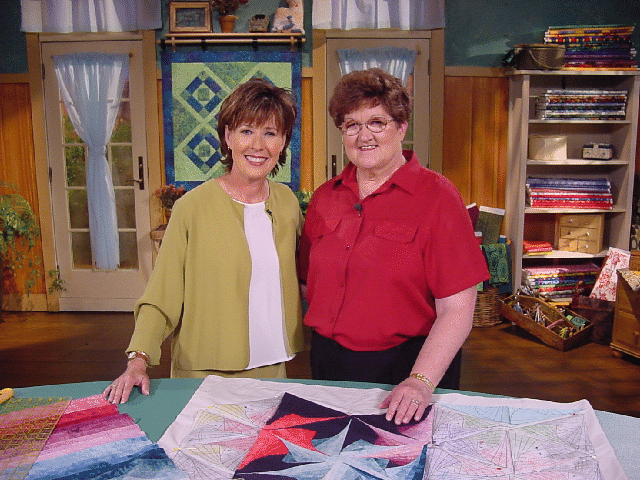 Quilt City USA: For the Love of Fabric:
The KBTC-TV crew came from Tacoma, Washington, to the AQS Quilt Show in April, and they have produced a great travelogue that every quilter will want to see. Learn what happens in Paducah from the time the quilts arrive for judging until they are taken down. See interviews with the winners, including Phillipa Naylor, the Best of Show winner, who was inteviewed at her home in Saudi Arabia. Interviews with AQS Founder Meredith Schroeder and Show Director Bonnie Browning are also included.
To see the show in your area, contact your local PBS station and request it...Quilt City USA: For the Love of Fabric.
Sat., Dec. 7, 10:30am - 12:00n: Bonnie appeared on WSIU-Carbondale, when they aired Quilt City USA: For the Love of Fabric as their fundraising show. Wayne, Cathy Dolson, and Jay Staten helped man the telephones.